—-
Using Facebook Pixel to Boost Qualified Traffic and Conversion Rates
// Business 2 Community
Pay-per-click has always been a bit of a grey area for marketers. In some cases, particularly in situations where there has been a poor initial setup, PPC advertising has been shown to succeed in generating traffic, but fail in ultimately creating a conversion. However, with best practices and expert advice now being shared on the web all the time, PPC is now a much less risky technique, even for complete beginners.
Businesses across the world are discovering more about how to really make PPC count towards a conversion, making use of some of the more advanced methods like direct response, niche terms, and retargeting. In fact, retargeting and remarketing is a very effective way to boost conversions.
Retargeting & Remarketing
Not all PPC visitors are going to convert on a first visit. In fact, global conversion rates are down on the previous year. This may be frustrating but it's part of the game and there are simple conversion strategies that you can use to maximize the return from your retargeting spend (we'll get to those later in the post, don't worry). This will also save you from potentially paying for the same PPC visitor multiple times. Nobody likes paying for something twice!
If, unfortunately, you are unable to convert a PPC visitor during their visit, what you now have is a database of potential customers who you know have some level of interest in your company, your products, or your services. A failure to convert doesn't always mean a lack of interest; it means a lack of interest at a particular time.
Facebook Pixel
Facebook Pixel is a way to advertise to your pot of potential customers when they're in an environment that they feel comfortable in: social media. They're 'on their own turf', so to speak. It's a way of repurposing your own content for social media that reignites interest in what you have to offer through a different platform. If you're using PPC, then you really should be using Facebook Pixel, otherwise you're letting good conversion opportunities simply slip through the net.
Here's everything you need to know about Facebook Pixel, and how it can help boost conversions:
What is Facebook Pixel?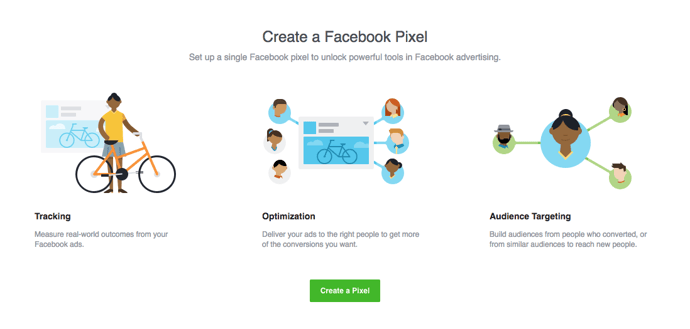 The name makes it sound a little more 'out there' than it really is. Quite simple, Facebook Pixel is a piece of Javascript code that can be added to a website. This then allows businesses to track or 'follow' their website visitors to social media. The code can either be implemented by the business, or emailed to a web team for implementation, as Facebook allows for both options.
The name is a throwback to the early days of retargeting, when a 1×1 pixel image would contain the necessary code, before we moved onto more subtle and advanced techniques, such as the tracking scripts in tags method we use today. Ultimately, it's a way of reminding customers of your brand, and encouraging them to convert.
Where Does the Code Go?
There's really no hard and fast rule about pixel placement. Instead, it more depends on which specific set of customers you're hoping to convert. Some businesses naturally choose to place their pixel within the header tags of their website theme, which makes the code appear on each and every page. Others opt to places the code between header tags on individual pages.
Another good way to use Facebook Pixel is to place it within a pop-up following an opt-in, as this gives you an opportunity to create a 'lookalike audience' (we'll discuss this more later). It's worth considering your products/services alongside the average Facebook user's demographics; it's worth focusing on the audience most likely to use Facebook.
Can I Customize Facebook Pixel?
You're the one in control here. There are lots of options for customization to help you get exactly what you want from your pixel, and working to ensure that your pixel is behaving in a way that has a significant and positive effect on your conversion rate. While it's not possible to single out visitors on an individual basis, what you can do is create 'custom audiences', and there are many ways you can do this depending on what sort of visitors you're hoping to receive greater conversion rates from:
Target visitors who land on a specific page (a particular product or service)
Target visitors who have visited your site within the last 24 hours only
Target visitors who have visited your site anytime within the last 6 months
Target visitors who have abandoned their shopping cart and failed to convert
Target visitors who have visited one page, but failed to visit a related page
An example could be, for instance, that you're noticing that a large number of visitors are abandoning their carts. Facebook Pixel can be used to target these visitors specifically, acting as a reminder or offering deals related to their interests in order to encourage them to return and take action.
Product Specific video ad through Facebook pixel retargeting via Onnit. Shoppers receive extremely relevant ads based on their browsing history through the use of the Facebook pixel.
Are There Any More Ways to Customize?
Yes! More advanced customization options are available as part of Facebook Pixel's 'Standard Events'. With Standard Events, not only can you target visitors based on their viewing habits, but also on their actions (or lack of actions).
The default way to select which visitors end up in the custom audience pot is through content viewing, but there are other ways, too, such as adding a product to a wishlist, making a specific query through the search function, or adding a product or service to the cart but not completing a purchase.
This all helps to make Facebook Pixel a beneficial aid in providing a personalized, individual experience for visitors, and is instrumental in working to convert users through retargeting methods.
Who Creates the Retargeting Ad?
You do! You can quickly create your retargeting ad through the Facebook Ads 'Create' tool, but sometimes this is a easier said than done. While the tool itself is simple to use, the tricky part is making sure that your ad is perfectly suited to the custom audience that you've created, as this really can mean the difference between securing a conversion and not having an impact upon the visitor.
The type of ad you whip up for visitors to a specific page, for example, will usually be different to the sort of ad that's going to have an effect on a visitor that added an item to their cart but didn't checkout. Cart abandonment rates are increasing, so tailoring an ad to audiences such as this is a great way to address the issue.
Shoppable Facebook retargeted ad from Mizzen+Main.
Is Facebook Pixel Only Used for Retargeting?
Absolutely not. In fact, retargeting is actually just one of the many benefits of Facebook Pixel. By using the tool, it's also possible to track conversions and, more importantly, it's possible to track conversions across multiple devices, which is one of the major differences between Facebook Pixel and standard cookies. At a time when more and more consumers are working across multiple devices, this is hugely important.
It's also possible to create a 'lookalike' audience which produces a new pot from those with similar demographics, and learn more about who visits your website, which allows you to create more customized content. Ultimately, it's about measuring ad success, and influencing future campaigns.
How Do I know It's Working?
The most obvious way to tell if Facebook Pixel is working for you is through the Facebook Ads Manager, which displays conversions, tells you how many clicks you're getting, and details your ad expenses to provide a good idea of whether or not your conversion spends are neutralized by any additional profits that you've experienced as a result of more conversions and, potentially, by more sales. Retargeting can be effective for boosting conversions, but there are ways to increase your chances of success:
Don't just focus on 'lost' potential; how about up-selling to customers that did convert?
Try not to wait around; get in there quick and strike while the iron is hot
Make sure your retargeting campaigns remain relevant, taking into account holiday traffic
Maximize Conversions from Facebook Retargeting Traffic
The beauty of retargeting with Facebook pixel is that you can continue to market to prospects even if they don't convert on your site. However, each time that visitor clicks through on one of your retargeted ads, you end up paying for it. This means that you may end up paying for the same traffic two, three, four times. This isn't the most efficient use of your ad spend.
Rather than strictly rely on retargeted ads, it makes sense to implement conversion optimization campaigns on your site to provide more relevant opportunities for conversions. For the sake of simplicity, let's take a look at two high converting campaigns that you can use to convert PPC traffic.
New Visitor Email Capture
By now, you should know that first time visitors rarely purchase on their initial visit. Most shoppers take multiple marketing touches for them to ultimately purchase. The most effective means of marketing communication, in terms of ROI, is email. Outside of a sale, capturing a first time visitor's email should be your goal.
The easiest way to capture more emails from new visitors and maximize the return from PPC campaigns is with an email pop up. An appealing offer for a discount code, entry into a contest, or a solid sell of your newsletter emails will get new visitors to convert in that first visit.
Other cool incentives to use with your email pop ups include sales reminders (use a countdown timer in your pop up), a seasonal look book of new styles, or some free swag with a purchase.
When engaging first-time visitors with a pop up, be sure to present something that represents your brand and matches your website design. It's more engaging and drives higher conversion rates.
Cart Abandonment Sales Offers
We focused on top of the funnel conversions for first time visitors. Now, let's focus on the bottom of the funnel, where actual sales occur. This campaign applies to both new and return visitors. On average, 7 out of 10 shopping carts are abandoned and this largely has to do with price.
To combat cart abandonment, it only makes sense to provide shoppers what they are looking for. In most circumstances, it's a discount or free shipping. When a shopper shows signs of abandoning their cart, display a discount code that they can immediately apply to their cart total. It's easy and fulfills the shopper's needs. This is something that you can implement and automate on your site today.
Crafty, fun copy and an accessible discount can dramatically decrease cart abandonment rates on your store.
Add one of these promotions to your store today and start converting a higher percentage of PPC traffic!
The Changing Face of CRO
Today, we have a plethora of marketing tools to use in order to gain exposure, increase traffic, and drive conversions. At the same time, the buyer journey has become multidimensional and sometimes hard to track. Facebook Pixel has given businesses a powerful tool to track their shopper's every move and be able to communicate with prospects in an effective manner offsite.
Pair this ability to drive new traffic and interested shoppers to a website with an automated conversion optimization strategy and you're going to see a return from ad spend like you've never imagined.
Get started with your Facebook Pixel today!
—-
Read in my feedly